Safe Seats Safe Kids
Free Child Car Restraint Inspections
Local parents and carers are invited to book in for a free child car restraint fitting or safety check! The events are hosted by Kidsafe Victoria in partnership with Neighbourhood Houses Victoria, with support by the Victorian State Government.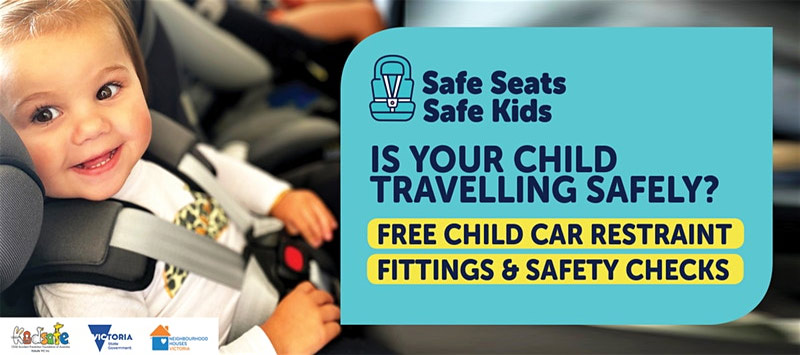 Sign up to receive notifications about future inspection days in your area!
COVID-19 Update

The Safe Seats, Safe Kids Free Child Restraint Fitting and Safety Check Program is unable to continue in its 'event' format due to COVID-19 restrictions. An alternate service delivery option has been developed in line with Government directions.
The free Child Car Restraint Fitting and Safety Check service will recommence on a temporarily 1:1 smaller scale at selected neighbourhood house venues.
Please check our Venues page to find your closest neighbourhood house hosting the program.
You can sign up to receive updates as to when additional venues will be added to the program, as well as for ongoing child car restraint information.
See the Frequently Asked Questions page or follow the link for further details on COVID-19 policies and procedures.
For more information and advice regarding COVID-19 please visit the Department of Health and Human Services website.
Upcoming Inspection Days
We are adding venues all the time, so if you can't see one in your local community listed below, please don't worry! Instead, you can sign up above to register to receive information regarding events in your local area.