Safe Seats Safe Kids
Free Child Car Restraint Inspections
Local parents and carers are invited to book in for a free child car restraint fitting or safety check! The events are hosted by Kidsafe Victoria in partnership with Neighbourhood Houses Victoria, with support by the Victorian State Government.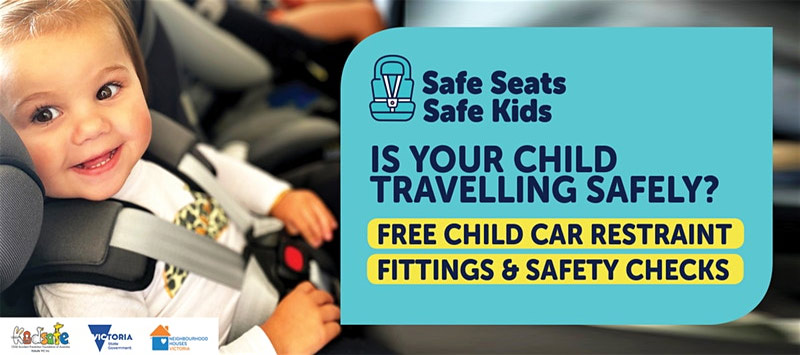 Sign up to receive notifications about future inspection days in your area!
Upcoming Inspection Days
We are adding venues all the time, so if you can't see one in your local community listed below, please don't worry! Instead, you can sign up above to register to receive information regarding events in your local area.
Eltham - 24 Feb 2020, 8 am

Details
Price
Restraints to inspect
Restraint Inspections

This ticket is required and must be purchased.

FREE

(AUD)

Sold Out

Eltham - 24 Feb 2020, 9 am

Details
Price
Restraints to inspect
Restraint Inspections

This ticket is required and must be purchased.

FREE

(AUD)

Sold Out

Eltham - 24 Feb 2020, 10 am

Details
Price
Restraints to inspect
Restraint Inspections

This ticket is required and must be purchased.

FREE

(AUD)

Sold Out

Eltham - 24 Feb 2020, 11 am

Details
Price
Restraints to inspect
Restraint Inspections

This ticket is required and must be purchased.

FREE

(AUD)

Sold Out

Langwarrin - 25 Feb 2020, 9.30 am

Details
Price
Restraints to inspect
Restraint Inspections

This ticket is required and must be purchased.

FREE

(AUD)

Sold Out

Langwarrin - 25 Feb 2020, 10.30 am

Details
Price
Restraints to inspect
Restraint Inspections

This ticket is required and must be purchased.

FREE

(AUD)

Sold Out

Langwarrin - 25 Feb 2020, 11.30 am

Details
Price
Restraints to inspect
Restraint Inspections

This ticket is required and must be purchased.

FREE

(AUD)

Sold Out

Langwarrin - 25 Feb 2020, 12.30 pm

Details
Price
Restraints to inspect
Restraint Inspections

This ticket is required and must be purchased.

FREE

(AUD)

Sold Out

Point Cook - 26 Feb 2020, 9 am

Details
Price
Restraints to inspect
Restraint Inspections

This ticket is required and must be purchased.

FREE

(AUD)

Sold Out

Point Cook - 26 Feb 2020, 10 am

Details
Price
Restraints to inspect
Restraint Inspections

This ticket is required and must be purchased.

FREE

(AUD)

Sold Out

Point Cook - 26 Feb 2020, 11 am

Details
Price
Restraints to inspect
Restraint Inspections

This ticket is required and must be purchased.

FREE

(AUD)

Sold Out

Point Cook - 26 Feb 2020, 12 pm

Details
Price
Restraints to inspect
Restraint Inspections

This ticket is required and must be purchased.

FREE

(AUD)

Sold Out

Malvern - 27 Feb 2020, 8 am

Details
Price
Restraints to inspect
Restraint Inspections

This ticket is required and must be purchased.

FREE

(AUD)

Sold Out

Malvern - 27 Feb 2020, 9 am

Details
Price
Restraints to inspect
Restraint Inspections

This ticket is required and must be purchased.

FREE

(AUD)

Sold Out

Malvern - 27 Feb 2020, 10 am

Details
Price
Restraints to inspect
Restraint Inspections

This ticket is required and must be purchased.

FREE

(AUD)

Sold Out

Malvern - 27 Feb 2020, 11 am

Details
Price
Restraints to inspect
Restraint Inspections

This ticket is required and must be purchased.

FREE

(AUD)

Sold Out

Norlane - 28 Feb 2020, 8 am

Details
Price
Restraints to inspect
Restraint Inspections

This ticket is required and must be purchased.

FREE

(AUD)

Sold Out

Norlane - 28 Feb 2020, 9 am

Details
Price
Restraints to inspect
Restraint Inspections

This ticket is required and must be purchased.

FREE

(AUD)

Sold Out

Norlane - 28 Feb 2020, 10 am

Details
Price
Restraints to inspect
Restraint Inspections

This ticket is required and must be purchased.

FREE

(AUD)

Sold Out

Norlane - 28 Feb 2020, 11 am

Details
Price
Restraints to inspect
Restraint Inspections

This ticket is required and must be purchased.

FREE

(AUD)

Sold Out

Daylesford - 13 Mar 2020, 9 am

Daylesford - 13 Mar 2020, 10 am

Daylesford - 13 Mar 2020, 11 am

Daylesford - 13 Mar 2020, 12 pm

Werribee - 16 Mar 2020, 8 am

Details
Price
Restraints to inspect
Restraint Inspections

This ticket is required and must be purchased.

FREE

(AUD)

Sold Out

Werribee - 16 Mar 2020, 9 am

Details
Price
Restraints to inspect
Restraint Inspections

This ticket is required and must be purchased.

FREE

(AUD)

Sold Out

Sunbury - 16 Mar 2020, 9 am

Werribee - 16 Mar 2020, 10 am

Details
Price
Restraints to inspect
Restraint Inspections

This ticket is required and must be purchased.

FREE

(AUD)

Sold Out

Sunbury - 16 Mar 2020, 10 am

Werribee - 16 Mar 2020, 11 am

Details
Price
Restraints to inspect
Restraint Inspections

This ticket is required and must be purchased.

FREE

(AUD)

Sold Out

Sunbury - 16 Mar 2020, 11 am

Sunbury - 16 Mar 2020, 12 pm

Morwell - 17 Mar 2020, 9 am

Morwell - 17 Mar 2020, 10 am

Morwell - 17 Mar 2020, 11 am

Morwell - 17 Mar 2020, 12 pm

Sebastopol - 27 Mar 2020, 9 am

Sebastopol - 27 Mar 2020, 10 am

Sebastopol - 27 Mar 2020, 11 am

Sebastopol - 27 Mar 2020, 12 pm

Greensborough - 30 Mar 2020, 9 am

Details
Price
Restraints to inspect
Restraint Inspections

This ticket is required and must be purchased.

FREE

(AUD)

Sold Out

Greensborough - 30 Mar 2020, 10 am

Details
Price
Restraints to inspect
Restraint Inspections

This ticket is required and must be purchased.

FREE

(AUD)

Sold Out

Greensborough - 30 Mar 2020, 11 am

Details
Price
Restraints to inspect
Restraint Inspections

This ticket is required and must be purchased.

FREE

(AUD)

Sold Out

Greensborough - 30 Mar 2020, 12 pm

Details
Price
Restraints to inspect
Restraint Inspections

This ticket is required and must be purchased.

FREE

(AUD)

Sold Out

Greensborough - 30 Mar 2020, 1 pm

Greensborough - 30 Mar 2020, 2 pm

Prahran - 31 Mar 2020, 9 am

Prahran - 31 Mar 2020, 10 am

Details
Price
Restraints to inspect
Restraint Inspections

This ticket is required and must be purchased.

FREE

(AUD)

Sold Out

Prahran - 31 Mar 2020, 11 am

Prahran - 31 Mar 2020, 12 pm

Prahran - 31 Mar 2020, 1 pm

Prahran - 31 Mar 2020, 2 pm

Prahran - 31 Mar 2020, 3 pm